ICEDUIT2018 News
Weather Forecast of Nanjing, China during the Conference
【Oct. 17, 2018】
The following is the weather forecast of Nanjing, China during the Conference, which will be updated regularly.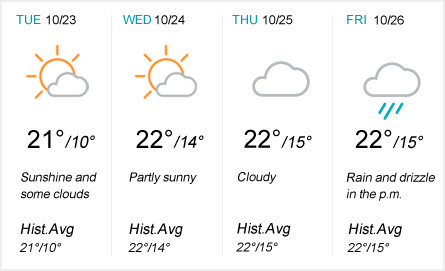 To know more details, please visit:
https://www.accuweather.com/en/cn/nanjing/105570/weather-forecast/105570
Tourism Route for ICEDUIT2018 is Available Now
【Oct. 9, 2018】
ICEDUIT2018 will be held in Nanjing, China, during Oct. 24-26, 2018. Oct. 24, 2018 is the registration time, Oct. 25, 2018 is the keynote session and panel session for the conference, and Oct. 26, 2018 is the time for the tourism. And here is the tourism route on Oct. 26, (from 8:00AM to 17:00PM):
Sun Yat-sen's Mausoleum (中山陵)---The Nanjing Presidential Palace (南京总统府)---Yuhuatai (雨花台)---Xuanwu Lake (玄武湖)---Qinhuai River (秦淮河)
Learn more: http://www.iceduit.com/2018/venue
ICEDUIT2018 Will Be Held Together with WCMEE2018 and ICAMIT2018 at the Same Venue
【Sep. 29, 2018】
Due to the relevance among the topics of ICEDUIT2018, WCMEE2018 and ICAMIT2018, as well as the number of the conference participants, ICEDUIT2018 will be held together with WCMEE2018 and ICAMIT2018 on Oct. 25, 2018 in the same venue at Holiday Inn Aqua City Nanjing.
The Submission Deadline Has Been Extended to Oct. 2, 2018
【Jun. 10, 2018】
The submission deadline for the conference has been extended to Oct. 2, 2018, please click http://www.papersubmission.net to submit your paper if you have any interest.
ICEDUIT2018 Call for Papers
【Jan. 8, 2018】
2018 3rd International Conference on Education and Information Technologies (ICEDUIT2018) invites original and unpublished papers. The papers may include but are not limited to:
Education : Elementary Education, Educational Psychology, Educational Technology, Vocational Education, History of Education, Lifelong Education, Special Education, Preschool Education, Regular Education, Adult Education, Higher Self-education, Distance Learning;
Information Technology: Electronic Technique, Laser Technology, Biological Information Technology, Space Technology, Sensing Technology, Communications Technology, Computer Engineering, Control Engineering, Automation, Intelligent, New Material Technology, New Energy Technology, Mechanical Technique, Industrial and Agricultural Production, etc.
If you have any interest, please submit your paper via the submission system: http://www.papersubmission.net
to the Submission Deadline
Important Dates

Conference:

Oct. 24-26, 2018

Submission:

Extended to Oct. 2, 2018

Notification:

20-40 days after the submission

Publication:

30-60 days after the final edition
Contact Information

Email:

huiyi123net_oct@126.com

Cell Phone:

0086-18917219762

Telephone:

021-51098086

QQ:

2934920393

WeChat:

18101720867